Keynote speakers
GABRIEL IZARD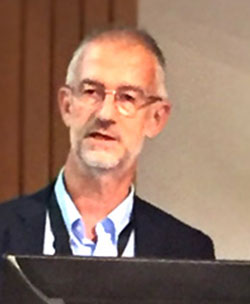 Gabriel Izard, Associate Professor at UAB (Spain)
Title: Private label in Spain
Thursday 13:00-14:00
Bio:
Gabriel Izard Ph.D. at the UAB (Universitat Autònoma de Barcelona) devoted his professional career very close to the retail industry and academic institutions. During his professional career he was, for more than 15 years, serving as Technical Director in AECOC (GS1 Spain), with responsibilities in International Committees, where international standards for automatic identification of goods, and for electronic information exchange were developed. Among his managerial responsibilities it account he position of Country Manager in a Multinational Software Company providing services for Data Synchronization among companies participating in different levels of the chain, and other services. He is nowadays a market developer in a multinational service provider about bar code quality. This activity is combined with the position of associated professor at the UAB covering marketing, retailing, operations management, and business in action topics. He teach for study abroad and local students. Furthermore, he enjoy writing articles regularly in local journals and economic magazines, and also becoming an AECOC academia active member in many events and collaborate in actions to promote the talent capture for the FMCG sector
ANNE L. ROGGEVEEN,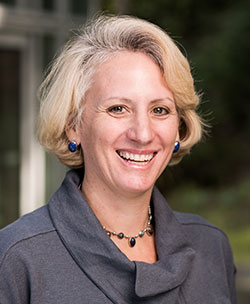 Anne L. Roggeveen, co-EIC Journal of Retailing and Professor at Babson College, MA, USA
Title: Publishing in Journal of Retailing
Thursday 18:00-19:00
Bio:
Anne L. Roggeveen (Ph.D. Columbia University) is the Charles Clarke Reynolds Professor of Retailing & Marketing at Babson College and Honorary Visiting Professor of Retailing and Marketing at the Center for Retailing, Stockholm School of Economics. She serves on the American Marketing Association's Academic Council and is co-Editor-in-Chief for the Journal of Retailing.Her research interests are in the areas of retailing and pricing.
Her research has been widely published including in the Journal of Marketing, Journal of Marketing Research, Journal of Consumer Research, Journal of Consumer Psychology, Journal of the Academy of Marketing Science, and Journal of Retailing. She has won a number of awards for her research and teaching. These include the William R. Davidson Journal of Retailing Best Paper Award 2010, 2016, 2018, 2019; the Stanley C. Hollander Best Retailing Paper, AMS 2008, 2016; M. Wayne DeLozier Best Conference Paper Award, AMS 2008; Babson College Faculty Scholarship Award 2008, 2012; Best Paper Consumer Behavior Track Paper, Winter AMA 2009; Best Conference Paper La Londe Conference 2011; Pearson Prentice Hall's Solomon-Marshall-Stuart Award for Innovative Excellence in Marketing Education, American Marketing Association, Teaching & Learning SIG 2014; and the Lamb-Hair-McDaniel Outstanding Marketing Teacher Award, Academy of Marketing Science 2014. In addition, her article, "Customer Experience Creation: Determinants, Dynamics and Management Strategies" was the top cited article published in Journal of Retailing between 2007 and 2011.
Dr. Roggeveen currently is an Associate Editor at the Journal of the Academy of Marketing Science and Journal of Consumer Marketing. She also serves on many editorial boards including the Journal of Marketing, Journal of Service Research, and Journal of Business Research. She has co-edited numerous special issues and multiple conferences related to retailing and pricing.Dr. Roggeveen has taught the MBA core course in marketing as well as electives in Marketing Research, Retailing Strategy, Innovation and Experimentation, Marketing Experiments, and Marketing Strategy. Her industry experience includes work for State Street Corporation, Lotus Development Corporation, First Night, and the Commonwealth Institute in London. She also served on the Board of Directors for Nepa in Stockholm.
PEDRO RUBIO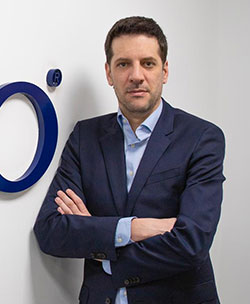 Pedro Rubio is Managing Director at Safilo Group (Spain, Portugal and Greece), President of AEO (Spanish Eyewear Association) and Associate Professor at University Comillas-ICADE (Madrid).
Title: How luxury eyewear brands are engaging consumers?
Friday 12:30-13:30
Bio:
Pedro Rubio is Managing Director at Safilo Group, Spain, Portugal and Greece Cluster. Safilo group is worldwide leader in Luxury Eyewear and Globe 2nd largest sunglasses and vista frames designer, manufacturer and seller Company, with offices and 7 factories spread in 5 continents. It works for brands as Dior, Jimmy Choo, Fendi, Givenchy, Elie Saab, Moschino, Marc Jacobs, Hugo Boss, Tommy Hilfiger, and Havaianas, among others. Its own core brands are: Carrera, Polaroid, Safilo, Oxydo and Smith. He is also President of AEO (Spanish Eyewear Association) since January 2019 and Associate Professor at University Comillas-ICADE (Madrid).